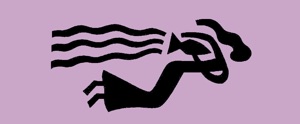 Aquarius
Frank read the message he had just sent, thinking of the slim hand that would now be plucking that same message from her fax machine. Wide blue eyes would scan it with pleasure, with amusement … or would they narrow with suspicion, irritation?

He had been smitten with Louise in personnel from the moment she welcomed him for a tour of head office. She was so gorgeous, so blonde, so curvy. So indispensable to the company she had her own fax machine.

He wanted to ask her out, but did not want to risk a rejection that would damage his cool, Aquarius image. But Aquarius is also inventive, and a techno-fan. So a fortnight ago he began his campaign, sending her daily notes, poems, all unsigned, from the fax machine in the general office, shared by so many, to her head office splendour five miles away.



Would she, though, be sufficiently intrigued to meet her secret admirer? He had only to wait until tonight to find out. If she turned up at the wine bar, as he suggested. And if her face did not fall into a disappointed pout when she caught sight of him … Besides, his horoscope had promised him a meeting with a lifetime love.

Here he was in the wine bar. The appointed time, 6.30, came and left. From his corner seat he could scan the room. All couples except for a slim, dark-haired girl solemnly sipping a mineral water.

By 7.30, Frank's disappointment was mingled with relief. At least he'd not been humiliated in public.

He went to the bar and, suddenly overwhelmed by sympathy for the lone female, stood up like him, said: "Quiet in here tonight."

She turned to him. "You'll think me so silly. I started a new job in personnel two weeks ago. Someone kept faxing me these lovely messages. Then asked me to meet him tonight. It was in my stars, too. Just a joke …"
"Rotten trick," said Frank. "Can I buy you a drink, you must be an Aquarius."

And that was just the beginning of the romance.