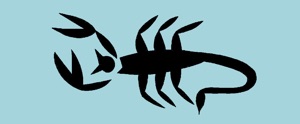 Scorpio
Her writing was as elegant as ever. The shock stuck fast in her heart. Carolyn's hand was steady as she wrote out the cheque to the private investigator.

Strange she should share his birthdate. But Scorpios do want to dive below the surface, find out what is really going on. So his profession and her dark curiosity brought them together.

Her fiancé Tom was a Scorpio, too, and his starsign talent for keeping secrets had been driving her wild. He worked in insurance and, when they first met, he kept regular office hours. Spent lots of time with her, talked to her, bought her silk sheets, made perfect love.

Lately it had been so different, he stayed out late, went away for whole weekends. She looked for clues. But his wallet, his pockets, his diary, revealed no trace of another woman.

Then, flicking through a smart magazine in the hairdresser's, she spotted him. It was a picture of a millionaire's wedding ball. Tom was not mentioned in the caption, but he was right next to an older woman shiny with diamonds.

Was he a gigolo, a jewel thief, a married man? Carolyn had to know. She hired a private investigator. Now she knew. Tom had taken a second job, working as a bodyguard. As she walked home the shock subsided. She smiled, planning how she would tell him the whole story.

Tom checked his bank statement. His extra work as a bodyguard, and some very generous tips, helped him reach the magic total he'd set himself. Now he could ask Carolyn to marry him. Not one question about where he'd been. At last he'd found a woman who trusted him. He could never, he smiled, forgive a suspicious woman. And he never did.