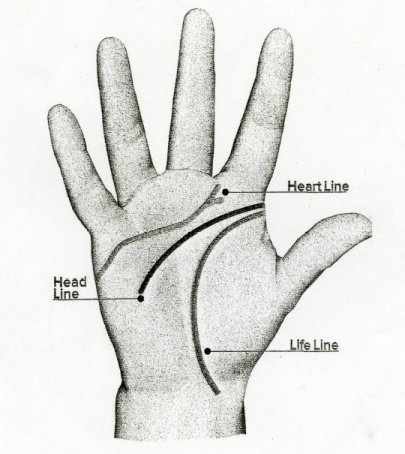 YOUR HEART LINE
It is at the top of your palm, running from side to side above both the head, and life lines, as shown on the illustration.

ARE YOU EMOTIONAL OR COOL AND CONTROLLED?
First, see which line is deeper and stronger - your heart line or the head line immediately below it. If the heart line is more noticeable, your heart sways your mind. If your head line is stronger, you are more logical, less emotional.
IF YOUR HEART LINE IS HIGH UP, CLOSE TO YOUR FINGERS
You are a real romantic. You hold tight to whoever, and whatever, you value. People are important to you. You could even be clingy if the line is very high. But, if there is lots of space between heart and head lines, you will be unconventional and broad-minded. Yes, you can be so impatient, but if the end, branching section of the line, curves upwards, it shows that you have a good balance spread between your feelings, your common sense and physical desires.
IS YOUR HEART LINE STRAIGHT AND RATHER SHORT?
You enjoy love talk and excel at building fantasies. You also prefer being the object of someone's desire, rather than making most of the running yourself.
DOES YOUR HEART LINE CURVE UPWARDS?
You are a love leader, sensually strong and assertive. You may have wild flings - but your worldly-wise experiences should make for a grounded, lasting match when the real one comes along.
DOES A SHORT HEART LINE SET LOW IN THE PALM MEAN YOU WON'T FIND REAL LOVE?
Far from it. But you may take a long while to pick and choose, because you don't trust your heart's voice alone.
WHAT DO TANGLES ALONG THE HEART LINE MEAN?
They show that you are sensitive and need to guard against rushing into commitments before you really know a partner.
IF THE HEART LINE DIPS AND JOINS THE HEAD LINE?
You could be one of those rare individuals who ends up doing so much for mankind. You are driven to help your fellow humans - and probably animals, too - and may seem keener on a cause than on any individual lover.
But when you do find someone special, nothing will sway you from your choice. Your powerful emotions are locked on for life! You need a strong partner.
IF YOUR HEART LINE ENDS IN A FORK WITH THREE TIPS!
Lucky you - a three-pronged fork, or trident, at the end of the heart line (probably reaching to under the base of your middle or index finger) means you will find blissful love — perhaps with someone rich and famous.